Where has Sherwin-William's
Let's Chip It
been all my life? In the midst of picking out paint for the new house and I am being uncharacteristically indecisive. So in doing some research on the WWW I came across Sherwin-Williams Chip it and am now obsessed! Here is how it is done:
1. Pick a favorite image and copy the URL. I choose this one because I love the greige walls.
2. Visit the Chip It website
here
and paste your URL in the designated area. Click on the AGREE button and choose the image you want to "chip." FYI...if you are a
Pinterest
fan the process is very similar to "pinning."
3. After a few moments of thinking, Chip It gives you all the best Sherwin-Williams paint matches in the picure. Holy Cow!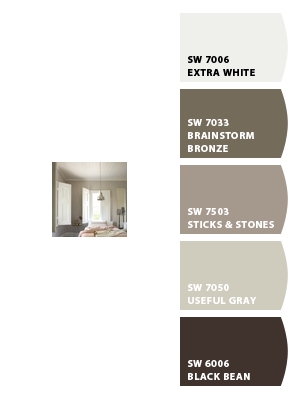 I am particularly loving the Sticks & Stones Greige and Useful Gray and will be purchasing some samples for our bedroom. In one word Chip It is GENIUS and has officially taken the guess work and my indecisiveness out of the picture. Happy Chipping!