I was quite excited for the Royal Wedding and thought it would be a great time to break out the never used China and invite my girlfriends over for an early morning breakfast. So when the Ladies of Traverse City agreed to join me I decided to go all-in and throw a proper party complete with English crumpets, tea of course, hats, pretty decorations and good food.
And it was a success-the party and the wedding!
THE DRESS
was beautiful-a custom Sara Burton by Alexander McQueen creation! It was classic, elegant and fit Kate's style perfectly. I also am kind of obsessed with her sister's bridesmaid dress which you can see
here
as well but the most interesting fashions were the fascinators which you can read more about at blog my favorite local wedding blog
Simply Blue Weddings
.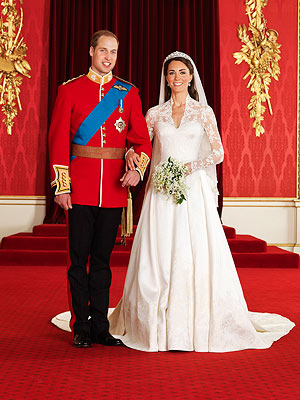 The Official Wedding Photo of the couple
Sitting at the table with my tea...
A pretty picture taken by Lady Kristy (also author of the fascinator post which you can link to above) of the place setting. I handmade name cards for each Lady with their own menu complete with the royal crest. The China was a gift from my mother-in-law, Royal Dalton prettiness!
On the menu: Fruit Salad, crumpets (recipe found
here
), Swiss Cheese Strata and Veggie Casserole (recipes found
here
and
here
). Oh yeah, I set up our laptop so we could stream the wedding live while we enjoyed breakfast...that way we didn't miss a minute of coverage.
Yummmmm!
Pretty flowers and a tea cup
Each guest had a menu and on one menu I placed a flower sticker...whoever had the sticker won this tea tin with the Royal couples pictures...I found this at TJ Maxx for super cheap.
Danishes, English Shortbread cookies, butter tea cookies, and coffee to enjoy while we watched the royal wedding in the "parlor" aka living room